'Vaccination is the reason most of the world doesn't have to live with deadly diseases like polio,
measles and smallpox.' David Beckham, UNICEF Goodwill Ambassador 
It is also one of the most cost-effective ways of protecting people against illness and disability: #VaccinesWork
World Immunization Week 2021 (April 24th-30th) highlights the role vaccinations play in improving the health of communities. As the SARS-CoV-2 pandemic continues to impact countries worldwide, governments are facing challenges related to coverage, equity and sustainability of routine immunisation alongside access and the particular maintenance requirements related to the SARS-CoV-2 vaccines.
Communication with communities has been key to ensure continued engagement with the vaccine programs despite the challenges of current contexts.
OUCRU Public Engagement teams in Vietnam, Indonesia and Nepal are working to promote vaccines
in a number of ways.
We are:
– producing public education materials in Nepal and Vietnam promoting vaccination, such as a series of 'I am vaccinated!' posters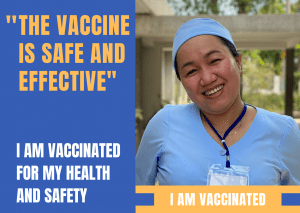 – producing podcasts in Indonesia with government health representatives and medical experts addressing local questions about vaccine access: "Dok, Kapan Ya Giliran Saya Divaksin?" ("Doc, When Is My Turn To Be Vaccinated?")  Episode 3, Part 1 (Bahasa) and Episode 3, Part 2 (Bahasa)
– working with the British Embassy in Vietnam on a series of livestream events enabling members of the public to ask experts questions about Covid19 vaccines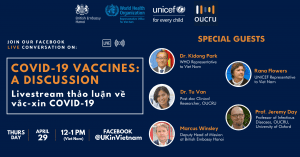 – monitoring social media in Nepal, Indonesia and Vietnam to better understand and address concerns people have regarding vaccines, in particular Covid19 vaccines
– conducting research to understand the challenges that communities in Vietnam face in accessing vaccines, and that healthcare workers face in delivering them, and sharing these stories
– developing communication skills training and accessible vaccine promotion materials to support health care workers and their communities in Vietnam.
#VaccinesWork