In this project, healthcare workers and community members in Indonesia, Nepal and Vietnam have been documenting their personal experiences of Covid-19. They have each made their own 'digital diary', using a range of creative tools and with technical support from the project team.
These diaries form part of the SPEAR project: exploring the experiences and impacts of COVID-19 for healthcare workers and vulnerable communities. SPEAR stands for: COVID-19 Social Science and Public Engagement Action Research in Vietnam, Indonesia and Nepal.
The digital diaries have gathered a wide range of stories. They include reflections of the challenges and difficulties participants have faced during this time. They also document the positive experiences, they may have had – of cooperation, resilience and inspiration – whether personally, within family, or within their workplace and their community. To create the diaries participants have been invited to use videos, photos, drawings, recordings or other artworks to express their experiences of Covid-19.
We hope these diaries reach a wide audience through social media. We also intend, when physical movement and meeting becomes easier, that they are shared within each author's community directly.
We anticipate that watching these stories will help prompt viewers to consider their own economic and emotional situation as a result of the pandemic and to evaluate how they have managed as individuals. We also hope that that these stories help people to consider strategies communities can adopt for supporting one another in future challenging contexts.
Members of the project team have written about 'Digital Diaries as a Platform for Participating in Covid-19 Research' in a paper available online here.
You can visit the virtual exhibition: Digital Diaries: Voices from the Pandemic, COVID-19 experiences in Asia here.
Digital Diaries in Indonesia
In Indonesia, members of communities in Jakarta, Bandung and Sumba are participating in the project to record their experiences. Their stories are being shared on an Instagram feed called Stories from the Islands.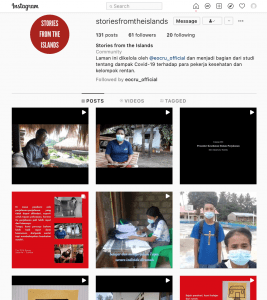 Digital Diaries in Viet Nam
This project aims to enable healthcare workers in Vietnam to share their personal experiences of Covid-19, both during and after, including periods of lockdown and social distancing by using a Digital Diary as a creative tool. This may include stories and reflections of some of the challenges for participants during this time, as well as the positive experiences they may have had, either personally, within family, within their workplace and their community. Participants in this project are invited to share these stories as openly and honestly as they feel comfortable using videos, photos, drawings or recordings and other artworks of their own free will.
Digital Diaries in Nepal
In Nepal stories have been shared by healthcare workers and community members from various regions within the country, ranging from cities to remote mountainous areas.  Below are six community-led stories recorded in Nepal, a country which endured a prolonged lockdown between 2020 and 2021.
More videos can be found in this channel: Link
Bhanubhakta's story
Bhanubhakta a student lives with four other siblings in a tiny rented room in Kathmandu. With a lockdown in progress due to the coronavirus – they find themselves virtually trapped in the room. Fast running out of food with no money and no internet access for online classes, life suddenly becomes dauntingly uncertain for them.
Sunita's story
Sunita is a paramedic counsellor who job it is to deliver vital anti-retroviral medications to people living with HIV. With no transportation because of the lockdown, her work has become near impossible. She is forced to walk for hours in the hills and mountains of her district to make sure the medications get to people living with HIV.
Sarita's story
Sarita is a lab assistant in a private hospital. She was among the first to be diagnosed positively for the coronavirus in Nepal. Her entire world changed when word got out on social and other media in the country about her positive status. She was vilified by her community and still faces humiliation even though she no longer has the virus. Sarita is still deeply troubled and traumatized by her experience
Dhana's story
The sudden imposition of the lockdown means that Dhana finds himself all alone in his rented room. Dhana is very weak and requires dialysis two times a week. He has no one to help him cook, wash, clean and his trips to the hospital for dialysis is hugely difficult for he has to walk to and from the dialysis centre. Moreover, Dhana has no money left and is behind on his rent.
Manoj's story
Manoj – a daily wage earner finds himself without any work after the lockdown started. He lives with an ageing father and two small children – his wife having left him recently as he was unable to provide. With no work and no income, Manoj is forced to rely on goodwill and credit from shopkeepers to feed his family but this goodwill does not last long and Manoj is unsure what to do next.
Kamala's story
Kamala is the only female journalist in her district. The lockdown has forced her to change the way in which she reports her stories as it has made her rely more and more on her male colleagues for transportation. This has raised the eyebrows of her conservative community and resulting allegations make it harder for her to focus on her work. The nature of her work also means that Kamala has to live apart from her family and the two factors are proving a real test of her mental strength.