Community advisory boards (CAB) at OUCRU consist of representatives from the general public and researchers, doctors, and coordinators from OUCRU. The two groups will discuss and exchange information that will help for research generally, on a particular topic (e.g TB vaccine), or for a particular target group (e.g. adolescents). The discussion results help the researchers or doctors understand more about the public concerns on a certain topic and get feedback from the community that can be beneficial to their work and/or research. On the other side, the board meeting is a chance for community members to meet researchers and doctors directly and have their questions answered. OUCRU organises two such groups: the Hepatitis C Community Advisory Board and the Health Research Advisory Board on public health.
Hepatitis C Community Advisory Board
With the hepatitis infection rates remaining high in the country, we want to understand more about patients' experiences living with Hep C in Vietnam. With the help of the Hospital for Tropical Diseases HCMC (HTD), we have established a patient community advisory board (CAB) to engage with the Hep C community.
Through this, we link doctors, researchers, and the wider hepatitis patient community in order to:
Help researchers design strategies that enable effective and fair recruitment of patients into clinical trials.
Give input into the development of an appropriate questionnaire for screening patients, study information sheets, and informed consent forms.
Advise on effective and appropriate dissemination of research findings within the patient community, and to the wider public.
Gain a better understanding of patients' experiences of living with Hep C, and facilitate the sharing of experiences and concerns.
What we do
In 2017 the Hep C CAB including representatives of patients (newly diagnosed and long-term) and family members was established.
Together with community members, a CAB coordinator, facilitator, and 1-2 researchers attend each meeting.
3-4 meetings every year.
Through discussions, researchers can have feedback about how to phrase questionnaires, and seek suggestions for developing counseling or educational material. The board members had responses from researchers to their requests. The two groups also share ideas and opinions on topics of common interest.
Health Research Advisory Board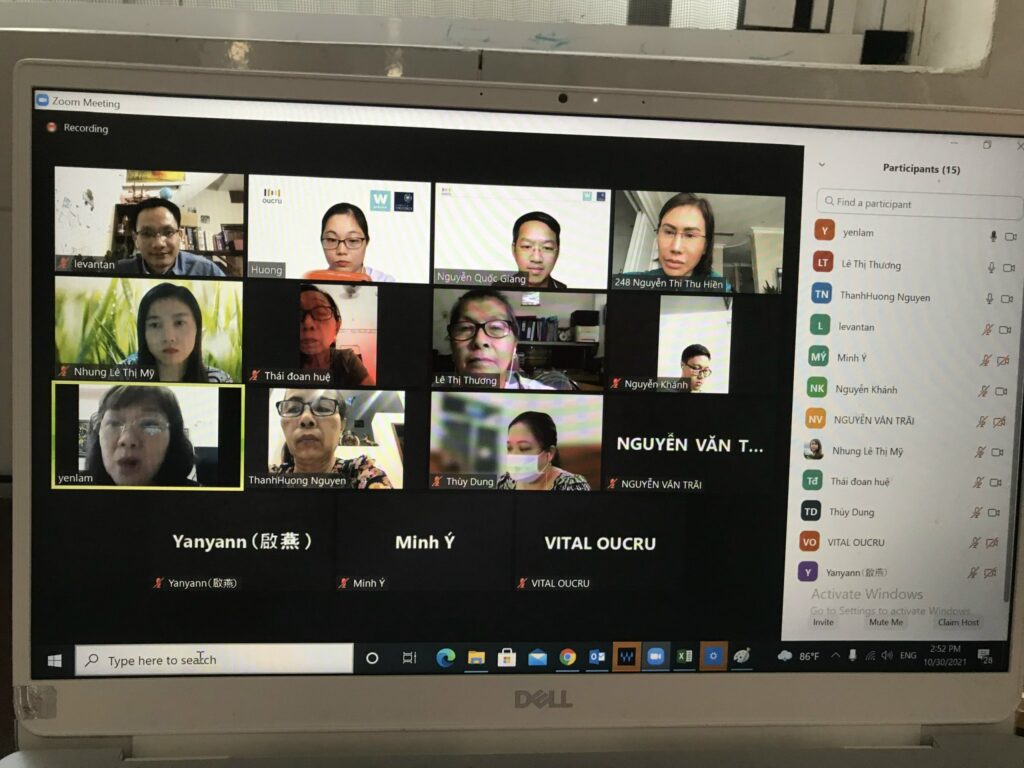 The OUCRU Health Research Advisory Board (HRAB), established in October 2021, is a group of interested individuals from the community, who are invited to meet with health professionals and researchers to contribute opinions, feedback, and suggestions for public health research conducted by OUCRU.
The board is made up of fourteen members from the community living in HCMC.
What we do
The HRAB meets 3 to 4 times a year. Apart from these regular meetings, HRAB members may also be invited to extra meetings if needed. The topics will be based on areas of research interest. HRAB community members are notified of the topics 1 to 2 weeks in advance.
The HRAB's first meeting was in October 2021 with the Covid-19 research group at OUCRU. The board is made up of fourteen members: ten from the community living in HCMC and four OUCRU staff. The OUCRU members include two from the Public Engagement team (who organise the meetings) and two researchers. These are Associate Prof. Le Van Tan and Dr. Lam Minh Yen.
At this meeting, the community members raised several questions related to COVID-19 such as testing, vaccination, treatment, and prevention. Many of these topics remain relevant even after the pandemic. For example, what is the role, if any, of traditional medicine when treating disease? How do vaccines work, how effective are they, and what side effects can be expected?
In the meeting, the researchers addressed each question openly and presented the latest scientific evidence available. They ensured that the evidence, and the research process that underpinned the evidence, were understood by all.
Through the discussions in the meeting, the researchers had a better understanding of the public's concern over topics linked to COVID-19, such as the age of vaccination for children, re-infection rate, and the safety of group testing.
For the community members present the meeting helped them to better understand the scientific research process, especially around vaccine development and disease treatment research. The community members were impressed with the result and the scale of OUCRU Clinical Trial Unit's Covid-19 studies. This helps to build a greater trust in science in general in the community. It also helps specifically with building awareness of the role of science in helping doctors and public health officials manage the prevention and treatment of Covid-19, and how we can all learn to live as safely as possible with Covid-19. This is particularly important in order to counter misleading information that is present in society and online around these issues.
The community members present expressed appreciation of the opportunity to meet researchers who could help them understand more about Covid-19. They explained that as well as addressing their concerns, it also helped to release some stress related to the Covid-19 pandemic. HRAB member Ms. Thanh Hương said: "Thanks to the research team and thanks for this meeting which help me have more knowledge and information about Covid-19, also know that these are these research about Covid-19 was conducted at Viet Nam".