Join us for an informative and transformative webinar titled "Communicating with Emotional Competence: Making a Difference to Patients and Colleagues". This webinar is co-organised by the CONNECT hub(*) on The Global Health Network (TGHN), OUCRU, and KEMRI (Kenya Medical Research Institute – Wellcome Trust Research Programme Kenya). The webinar aims to empower healthcare professionals with essential communication skills to connect with patients and foster positive relationships with colleagues.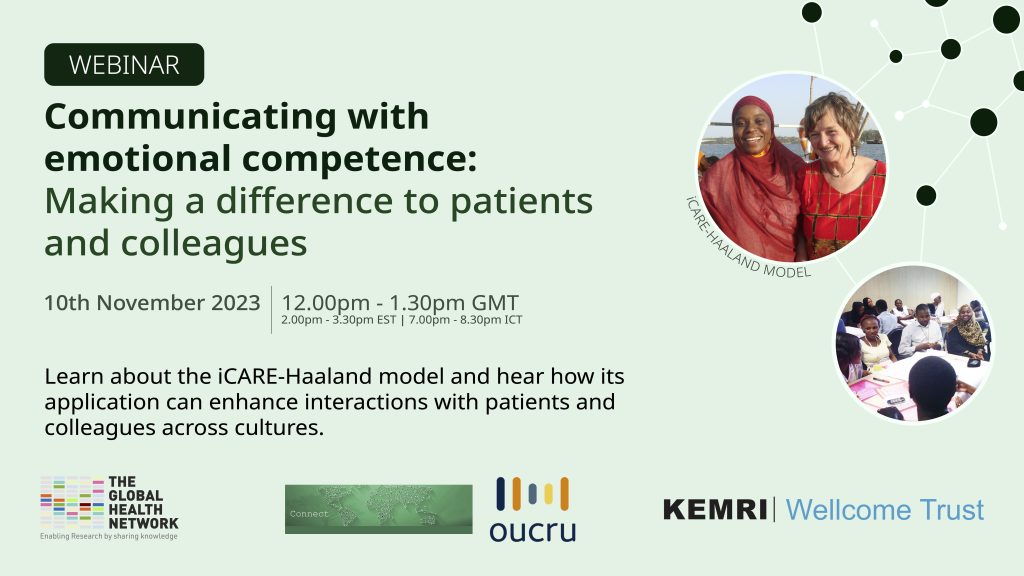 The webinar will take place on 10 November 2023, from 12:00 to 13:30 GMT, via Zoom. Register here
Effective communication plays a crucial role in healthcare interactions, impacting patient outcomes and creating a harmonious work environment. So, how and why does it matter to your work? Research clearly shows that healthcare personnel have a much higher risk of experiencing burnout (50-80%) compared to the rest of the population(1). However, a systematic review indicates that healthcare personnel with emotional competence are less likely to burn out(2). In this webinar, our speakers will explore the vital role of emotional competence in communication and provide practical strategies to become more empathetic and effective communicators.
During the webinar, we are also delighted to introduce the iCARE-Haaland model, an intensive training programme now available online on the CONNECT digital hub*. The iCARE-Haaland model focuses on developing emotional intelligence and communication skills that are vital for delivering exceptional patient care and building strong professional relationships. It is a self-led and self-paced online learning programme that is being made available for free via CONNECT. Course participants will gain valuable insights into active listening techniques, empathy-building practices, and how to manage emotions effectively in challenging situations.
Health professionals from nine countries have found the iCARE-Haaland model to be transformative, particularly in terms of recognising and managing emotions, a skill they were unaware they needed. You will have the opportunity to hear more about their experiences using their learnings from the model in healthcare settings, as well as examples of its cross-cultural effectiveness in Europe and Africa.
If you want to enhance your communication skills and make a tangible difference in the lives of your patients and colleagues, we encourage you to join this webinar.
The event will be in English.
Updated information about the event will be available on CONNECT and The Global Health Network's websites and social media platforms. Stay tuned!
(*) CONNECT is a knowledge and information hub specifically designed for healthcare workers and field workers involved in research. You can access the iCARE-Haaland model and other valuable resources in English and Vietnamese, tailored to the unique needs of field workers and healthcare professionals globally and regionally.
(1) https://www.ncbi.nlm.nih.gov/pmc/articles/PMC7604257/
(2) https://www.ncbi.nlm.nih.gov/pmc/articles/PMC9130825/