Every year, OUCRU offers opportunities for talented local scientists and clinicians to enroll in a 4-year fully funded postgraduate training program.  Postgraduate projects would be based at either OUCRU-HCMC, OUCRU-Hanoi or Eijkman Oxford University Clinical Research Unit in Jakarta, Indonesia and candidates enrolled with our UK university partners. OUCRU provides a pathway for students to enroll at the Nuffield Department of Medicine, University of Oxford and the UK's Open University via our long standing status as an Affiliated Research Centre.
Our postgraduate projects focus on infectious diseases relevant to the work of OUCRU, our partners and the SEA region.
Our research areas include:
Clinical research
Public Health
Epidemiology
Microbiology
Immunology
Genetics and Molecular Biology
Medical Statistics and Bioinformatics
Mathematical Modelling
Public Engagement
Social Science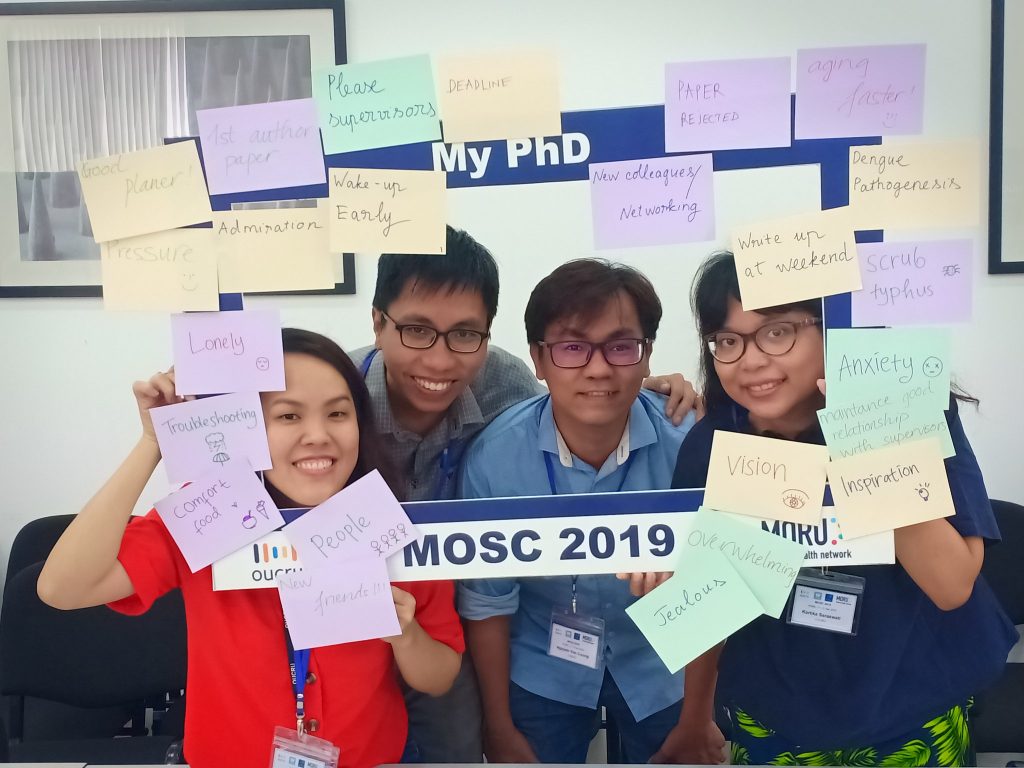 Memories from our annual OUCRU and MORU student conference. Pictured: Kien (Dengue Group; Oxford University), Dr Trung (Dengue Group; Oxford University), Dr Cuong (Zoonoses Group; Open University) and Dr Kartika (EOCRU, Oxford University).

Our eligibility criteria are:
IELTS 7.0 (or equivalent)
BSc, MSc or MD
Our fellowship includes:
Supervision and training
UK university fees
Support for conferences/training travel
Salary
We have a number of exciting projects available to begin in 2022! For more details on project themes and the application process click here
For further questions contact us at training@oucru.org
OUCRU's PhD opportunities allow you to work on highly impactful research projects on the computer, in the lab, in the clinic and/or in the community.