SPEAR stands for 'Social Science and Public Engagement Action Research'
About SPEAR
The aim of this research project is to explore the socio-cultural impact of the Covid-19 pandemic in three countries: Indonesia, Nepal and Vietnam.
It is doing this by identifying and documenting the experiences of healthcare workers and communities who have been particularly affected: by prolonged lockdowns, by direct experiences of Covid-19 and societal responses to them, by significant changes to economic circumstances and by a lack of access to public health measures. The project is now also exploring and access to and perceptions of Covid-19 vaccines.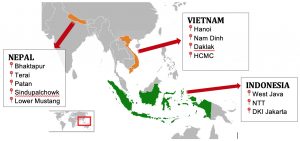 The purpose of collecting this data is to provide evidence that:
enables us to create targeted, evidence-based public health information to counter misinformation
enables partner and government organisations to strengthen their support for health workers and improve the access of vulnerable communities to public health measures
contributes to global discussions and guidelines (e.g. WHO facilitated forums) about ethics, public engagement and COVID-19, and support for healthcare workers.
It is being run by the SPEAR project team, who are based in OUCRU and EOCRU Social Science and Public Engagement teams in Indonesia, Nepal and Vietnam.
Project methodology and progress
We are using anthropological and participatory engagement methods to gather data from both healthcare workers and community members groups. These include: surveys, focus groups discussions, interviews, 'digital diaries' (filming of personal stories) and online forums.
Phase 1 (July 2020 – January 2022): During this period we collected 4,007 surveys, 239 in-depth interviews, and 59 digital diaries across the project sites.
Phase 2 (November 2021 – ): Conducting surveys and in-depth interviews focused on vaccine acceptance and access within the study sites.
We have also monitored online media (news sites and social media sites) during two different phases of the pandemic. Between April to July 2020 we monitored and documented misinformation and fake news circulating online related to Covid-19. Between March and December 2021 we continued this work, with a focus on Covid-19 vaccines and community perceptions and access to the vaccines.
Project outputs
You can find out more about how the Digital Diaries were made, and watch them here.
You can find out more about the Media Monitoring findings and our resulting public health information campaign here.
Project funding
The project is funded by the Oxford University Clinical Research Unit (Vietnam), via Wellcome funding.
OUCRU Covid-19 research
Read about other Covid-19 research work being undertaken by OUCRU and EOCRU here.
Who can I contact if I have any questions?
Vietnam:  SPEARVN_info@oucru.org:
Nepal: SPEARNL_info@oucru.org
Indonesia: info@eocru.org
The project team is grateful to our collaborating partners and researchers, the healthcare professionals and health related staff, and the community members who have participated in the research process.